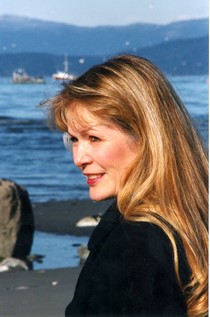 Welcome to the online portfolio of artist Roberta Mebs!
It's been an awesome few years, painting from the heart, and gifting my art pieces to friends and family. 
As I finish off several projects, I am looking forward to painting new works, exhibiting them on this website, and selling them once again.
The following is a little info about who I am:
Roberta Mebs was born in Vancouver, BC, lived in various cities & towns across Canada, including three years in France. Her interest in art kept Roberta grounded throughout the many moves her family made, and was deepened while in elementary school when class "field trips" took her to the Louvre in Paris. 
After thirty-one years in Alberta, (1978 - 2008) and always vowing to return to the Island, Roberta and her husband, Gord's dream has come true.
"We've finally returned to the fresh scent of ocean air, long stretches of beach, amazing seafood, year-round blossoms, blackberries, and fruit trees in our back yard, awesome birds - what else could anyone possibly need to feed their artistic nature?"
India Ink was the perfect medium to use in her drawings of old buildings and barns, but with a desire to use colour in her paintings, Roberta was drawn toward watercolours, then oils & acrylics, and finally, soft pastel, "which works so much better in drawing cottages, and flower gardens".
Being a self-taught artist had its frustrations, yet, it has allowed Roberta to develop her own style, and in 1986, she illustrated a Canadian Children's book, "Fireweed", after which she attended art Programs at Red Deer College and was accepted into a two-year Art Program at VIU.
Roberta has recently taken yet another pastel workshop while spending time in Phoenix, AZ, and is presently enjoying working in this medium.
"When I am in the process of painting each piece, I am completely 'drawn into' my work, feeling a real sense of peace & relaxation.  My desire is that these same peaceful feelings are passed on to the viewer. I hope to use my new skills with pastels, and illustrate another Children's book in the near future.
If you have any questions, or just feel like sending Roberta an email, please use the contact page.